Pets are a big part of the family, so go ahead and bring them along for all of the vacation fun! There's no better way to experience the Smokies than with your 4 legged friend by your side, and there are plenty of fun activities for the two of you to enjoy together. To help you make the most of your trip, here are 4 of the best things to do in the Smokies with your pet.
1. Stroll Through The Village
The Village Shops are located right off the Parkway and provide a peaceful escape from all the hustle and bustle of traffic. You will love the quaint, European-themed village atmosphere as you stroll around with your furry friend. The outside area is pet friendly, however, it's up to individual shops to decide whether or not your pet can come inside.
2. Take a Walk on the Gatlinburg Trail
Another one of the best things to do in the Smokies with your pet is to take a walk on the Gatlinburg Trail. It's one of 2 trails in the national park that allows dogs, and travels 1.9 miles one-way to the outskirts of Gatlinburg. You and your pup can enjoy peaceful wooded views as you walk along the West Prong of the Little Pigeon River. The rushing water is absolutely gorgeous and you can even cross it at one point by way of a pedestrian footbridge.
3. Let Them Play and Relax at Doggywood
Although pets (except for service animals) are not permitted inside Dollywood, you and your family can still enjoy the thrills of this theme park while your furry friend rests and plays at Doggywood! This kennel is very popular, so it's a smart idea to make your reservation ahead of time. You can choose either a kennel or a cottage for your pup to stay in, either way, they'll be very comfortable! Dogs can even share a kennel run or cottage if they live in the same house.
4. Eat at Tom & Earl's Back Alley Grill
After a day of exploring the Smokies with your furry friend, the two of you may have worked up an appetite! Luckily, you can head on over to Tom & Earl's Back Alley Grill for a bite to eat. This restaurant in Gatlinburg has a pet friendly patio where your pup can sit right by your side while you enjoy your meal. You can bring a few of their favorite treats or even a little food so that they have something tasty to munch on too.
Where to Stay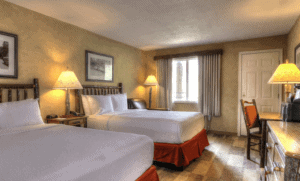 When you and your family aren't out and about enjoying all of the exciting things to do in the Smokies with your pet, you can relax in one of our pet friendly rooms. These accommodations feature all of your favorite amenities, with the added bonus of being able to enjoy them with your beloved pet!
Be sure to check out our pet friendly hotel rooms to find the perfect place to stay while you're all in town. We look forward to seeing you at the Oak Tree Lodge!