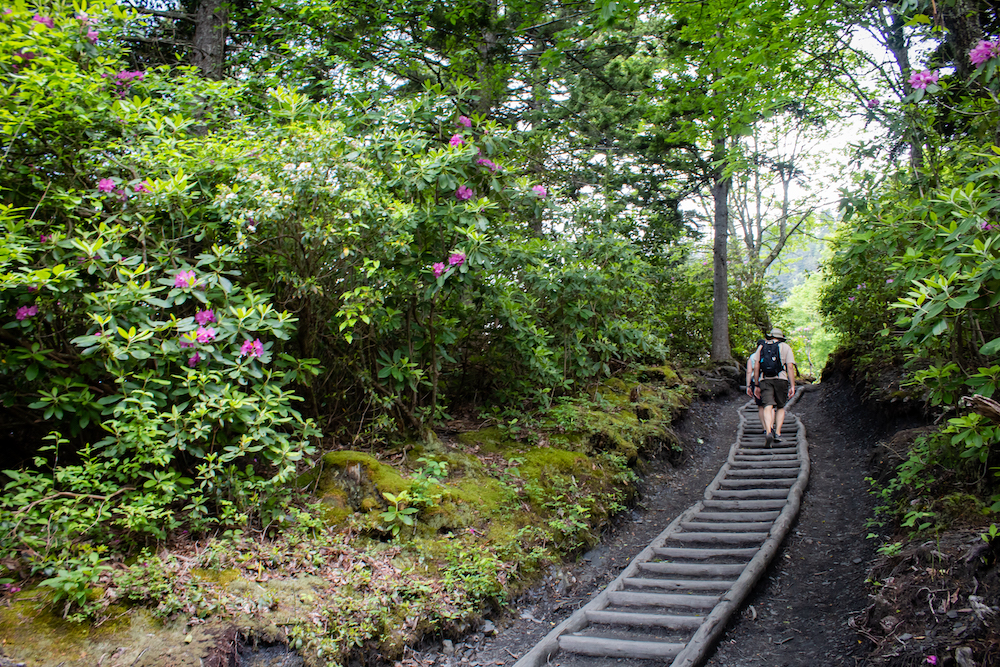 Every season is a great time to visit the Smoky Mountains but there is something extra special about springtime in the hills of Southern Appalachia. You can view the beauty from afar as you're driving into town and you can see it even better if you take a trip along the winding mountain roads. However, to truly experience the life and magic that exists in the Smokies, you must travel a bit on foot. A connection to this sacred place can be felt with an easy peasy hike, a trek to a stunning view, while standing beside a roaring waterfall, among the wildflowers and more. Below are a selection of hikes that are excellent during the spring months but that are also wonderful hikes at any time of the year.
Easy Peasy Hikes
1. Sugarlands Valley Nature Trail
Paved, flat, and handicap accessible the Sugarlands Valley Nature Trail is perfect for every visitor to the Smoky Mountains. You can expect to see wildflowers, remnants of days gone by, and thanks to multiple benches and spots for wheelchairs to pull off, you can take in the tranquility of the river as well. If you look closely you'll even find the paw prints of a curious bear that wandered by as the walkway was being paved. Pay attention around you as well, because you never know when one of the Smokies most loved residents will be poking around near the trail.
2. Ogle Place Nature Trail
An often overlooked but beautiful trail is the Noah "Bud" Ogle Nature Trail that's located at the former homestead on Cherokee Orchard Road. The trail is a great way to explore a bit, view wildflowers, and to view Ogle's tub mill that was built in the 1880's and still sits along LeConte Creek.
3. Gatlinburg Trail
The Gatlinburg Trail is the only trail on the Tennessee side of the national park that allows dogs. All guests will enjoy meandering around the river, seeing pieces of yesteryear, and blending this hike with time in downtown Gatlinburg, TN.
That View Tho
4. Andrews Bald
One of the top destinations in the Clingmans Dome area, Andrews Bald is located on the Forney Creek Trail and is easily accessible once Clingmans Dome Road opens each spring. If you're visiting later in the season in June and do this hike, you'll be treated to the stunning blooms of flame azaleas, late spring wildflowers, rhododendron blooms, mushrooms, and of course the beautiful view from Andrews Bald that awaits you.
5. Charlies Bunion
If you're wanting to experience the Appalachian Trail while you're in town, a hike to Charlies Bunion is a must! You'll get a great idea of what the Smokies are like in the higher elevations, have the opportunity to check out an AT Shelter, and you'll experience one of the most iconic vistas in America's most visited national park.
6. Alum Cave Trail
Thinking about hiking the Alum Cave Trail? Keep in mind the popularity of this trail means that you'll want to get an early start and try to hike it on a weekday. Once you reach Inspiration Point the views only get better the higher you go. Hike to Alum Cave Bluffs or if you're in for an all day trek, hike up to the summit of Mount LeConte, the third highest peak in dearly loved Great Smoky Mountains National Park.
Go Chasing Waterfalls
7. Laurel Falls
Paved and short, the trail to Laurel Falls is a great starter hike if you're visiting the Smoky Mountains for the first time and want to view a waterfall.
8. Abrams Falls
A day in Cades Cove is always a treat, but if you combine it with a hike out to Abrams Falls then you'll get to take in the beauty of a drive around the loop and a stunning waterfall. Keep your eyes open for all types of wildlife while in Cades Cove and on the trail. National Park law states that visitors must stay 150 feet away from all wildlife, so give them their space, and enjoy the experience from a respectful distance.
9. Rainbow Falls
Rainbow Falls Trail is one of the many hiking trails that are located along the Roaring Fork Motor Trail in Gatlinburg. Thanks to restoration work by the Trails Forever Crew and funding from Friends of the Smokies the trail is now not only filled with natural beauty but also stunning trail work that could easily be considered art. As you make your way up the trail, take a few minutes to appreciate the craftsmanship and hard work that has gone into this popular trail in the Great Smoky Mountains.
Among the Wildflowers
10. Chestnut Top Trail
One of the first trails to see the springtime blooms is the Chestnut Top Trail next to The Wye on the Townsend side of the park. Take a hike up Chestnut Top to view an abundant selection of wildflowers.
11. Huskey Gap Trail
Another great spot for viewing wildflowers is the Huskey Gap Trail. Begin this hike on Newfound Gap Road or you can hike up our next trail and connect to it for a longer day in the park.
12. Little River Trail
I like to think of a hike on Little River Trail as a "Build Your Own Hike" kind of trail. The trail was once a railroad bed so it's wide and has a steady but easy incline. As you hike your way up you'll follow the river, pass by the sites of former vacation homes, and you're sure to discover plenty of blooms along the way. There's also a great chance of spotting wildlife on this hike as well, maybe even a few otters playing in the river.
Are you ready to start hiking the Smoky Mountains? Take a minute to View Our Guest Rooms and check out all of Our Amenities! Then, book a stay with us!
Click Here to Save on Your Stay at Oak Tree Lodge!
We hope to see you soon!