If you are a thrill seeker or adrenalin junkie, you will be delighted to know that Pigeon Forge is home to some of the most extreme adventures in the country! From skydiving to riding massive roller coasters, you can do it all in the Smoky Mountains! If you are looking for some extreme adventures, check out these exciting attractions in Pigeon Forge TN:
1. Flyaway Indoor Skydiving
Experience the thrilling sensation of skydiving in a 21 foot tall vertical wind tunnel with 120 mile per hour winds at Flyaway Indoor Skydiving! The professional staff at this sensational attraction in Pigeon Forge provide everything you need for your skydive, including a flight suit, helmet, goggles, gloves and earplugs. After a 20 minute training session and 15 minutes of equipment preparation, you will step into America's first wind tunnel for your indoor skydiving experience! The great news is that nearly everyone can participate as long as you are in good physical condition with no prior back or shoulder problems!
2. Dollywood Thrill Rides
Most folks know that Dollywood has plenty of great live country shows and delicious southern cooking, but the Pigeon Forge theme park is also home to some of the top thrill rides in the USA! There is an impressive lineup of rollercoasters and thrill rides at Dollywood, including the all new Drop Line. This 230 foot tall tower takes guests more than 20 stories into the sky while it slowly spins around the tower for an amazing bird's eye view of the Great Smoky Mountains. However, don't get too comfortable as the Drop Line then plummets back to the ground at speeds reaching nearly 78 miles per hour!
3. Mountain Coasters
Control the speed of your own cart as you race down a mountain on one of the exhilarating mountain coasters in Pigeon Forge! At over a mile in length, the Smoky Mountain Alpine Coaster features the longest downhill ride in the country and it takes approximately 7 to 8 minutes to complete the ride. Each vehicle is designed to carry two guests but it can easily be handled by one person. Since the riders are in control of the velocity, this attraction provides a unique hands-on experience! The Coaster at Goats on the Roof is another incredible Pigeon Forge mountain coaster that speeds through the hills of Tennessee at speeds just under 30 miles per hour! Start with a slow uphill journey up the mountain before enjoying the ride back down through an incredible assortment of dips, curves and turns!
Where to Stay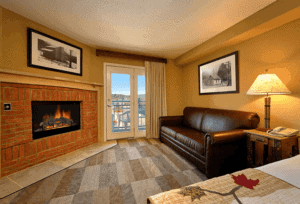 If you want to be close to all of the action in Pigeon Forge, check out the Oak Tree Lodge! Our affordable hotel is located directly on the Parkway and is just minutes from all local attractions. While staying with us, enjoy all types of great amenities such as a complimentary daily breakfast, indoor and outdoor pools, in-room refrigerators and even free attraction tickets!
Take a look at all of our hotel rooms in Pigeon Forge today to stay near these exciting attractions in Pigeon Forge TN! We look forward to seeing you soon at the Oak Tree Lodge!