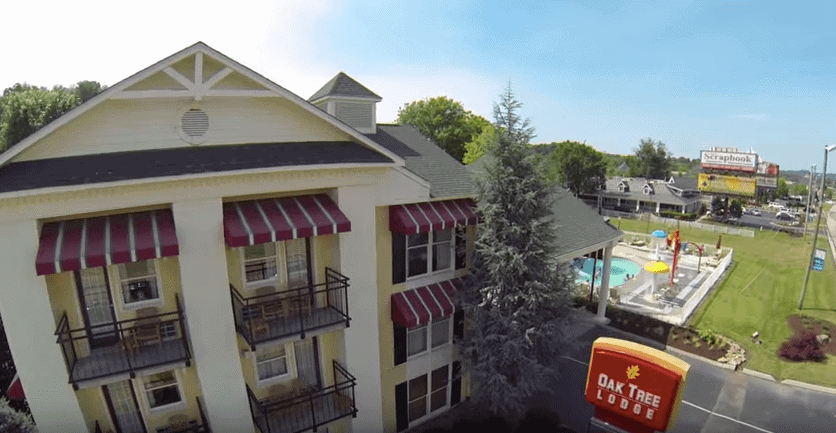 A couple's weekend getaway is a great idea for summertime and our Pigeon Forge hotel with private balconies is the perfect place for you to stay! Pigeon Forge and Gatlinburg have a lot of things to do for couples and, thanks to our great location, you are only minutes away from great attractions and restaurants.
1. Private Balconies
Private balconies are definitely a bonus when you're staying in a hotel in Pigeon Forge. You can enjoy them in the morning with our free complimentary breakfast or relax in the evening and reflect on the day while you enjoy spending a little time outside.
Plus, it doesn't get much better than the view! When you step out onto the balcony, you'll be able to see the Pigeon Forge Parkway as you look out to the Great Smoky Mountains in the distance.
2. Awesome Amenities
Not only do we have private balconies for our guests, but we have some great amenities as well! We have an indoor pool that you can use rain or shine. There's also an outdoor pool you can visit after a long day of hiking in the Great Smoky Mountains National Park or after you've been horseback riding or shopping around the outlet mall across the street.
3. Great Location
We have a great location too! We are within walking distance to the Five Oaks Riding Stables and much more! Our great location means you are just minutes away from your favorite activities. You can check out 3 of the best attractions near our Pigeon Forge hotel to see which other fun places you can visit close by.
4. Free Pigeon Forge Attraction Tickets
Everyone likes free tickets to attractions, right? When you stay at our Pigeon Forge hotel, free Pigeon Forge attraction tickets are included in your stay! This is a great opportunity for you to visit attractions that you may not have visited before. These free attraction tickets also save you money on some of the best things to do in the area.
Although our amenities, location and free attraction tickets are great we know you will love your private balcony the most. Stepping out on your private balcony in the morning with a cup of coffee is a great way to start your day!
Our Pigeon Forge hotel rooms are the best place for you to stay when you visit the area. Don't forget to check out our Pigeon Forge hotel rooms with private balconies and reserve your next vacation today.