It's easy to work up an appetite when you're having fun in the Smokies! Luckily, there are plenty of delicious restaurants where you can grab a bite to eat before continuing your adventure! Whether you're craving seafood or some Southern classics, you can find it all in Sevierville. To help you decide where to eat first, here are 4 of the best restaurants in Sevierville TN that you are sure to love.
1. Joe's Crab Shack
If you're craving seafood, Joe's Crab Shack is the place to go! If you can't decide between steak or seafood, their land and sea entree is the perfect solution. It comes with a USDA choice top sirloin topped with a creamy peppercorn sauce and shrimp skewer, all served over mashed potatoes and other seasonal vegetables. They even have happy hours that run Monday through Friday from 3 p.m. to 7 p.m. and 9 p.m. to close. During these times, you can enjoy discounted appetizers, beer, wine, and other specialty drinks!
2. The Chop House
Another one of the best restaurants in Sevierville TN is The Chop House! You can always count on this steakhouse to serve the best, premium steaks, and the freshest seafood. They also offer a gluten menu, full of tasty options for you to try. You can even pair your meal with a glass of wine or one of their delicious, craft cocktails.
3. Five Oaks Farm Kitchen
The Five Oaks Farm Kitchen has menu options for each meal of the day! If you aren't exactly sure what to try first, you can't go wrong with the hickory smoked pork ribs. They're made in-house and topped with a flavor-packed barbeque sauce. You can also choose one of the farm fresh sides to go with it. Be sure to save room for one of their mouthwatering desserts like the blackberry dumplings or the purple cow ice cream float!
4. Holston's Kitchen
Out-of-town guests and faithful locals alike can't stay away from the flavorful food at Holston's Kitchen! From steaks and seafood to quesadillas and sandwiches, you can find it all there! All of their meats, sauces, and desserts are also prepared fresh daily, so you can count on getting food that's of the highest quality. It's a great place to bring the family for a night out or your sweetheart on a romantic date.
Where to Stay
You shouldn't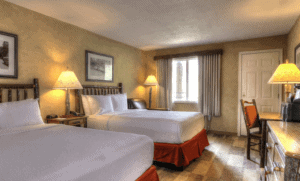 have to drive crazy distances to get to restaurants while you're on vacation, especially if you're already really hungry! Instead, you can stay close to all the best restaurants in Sevierville TN, so a delicious bite to eat will always be just minutes away. Whether you're visiting with family or friends, we have everything you'll need for a comfortable and convenient visit.
Be sure to check out all of our hotel rooms in Sevierville to find the perfect place to stay near all the best places to eat, shop, and be entertained. We look forward to seeing you and sharing more of our favorite places to eat when you visit!